Let's talk about Drew Goddard. Goddard's been working in the film and TV business for over 15 years but is far from a household name. He got his start when he was brought on as a writer for the final season of Buffy the Vampire Slayer, being at least a co-writer on two of the better episodes of the series, the Anya-focused "Selfless" and "Conversations with Dead People" (which was split across four writers, each writing distinct sections of the episode). From there, he would continue writing for television, with credits on Angel, Alias, and Lost.
It was this last series where Goddard really began to make a name for himself. Coming onto the show as a supervising producer in its third season after writing one episode in the first, he ended up co-writing eight episodes over the next two seasons, including three in the fourth season, where he was considered an executive producer. Within those eight episodes, he was nominated for a Writers Guild Award, and wrote three episodes that would eventually be submitted for Michael Emerson and Terry O'Quinn's Best Supporting Actor Emmy nominations, winning O'Quinn an award for his work on "The Man From Tallahassee" (which actually beat Emerson's submission for "The Man Behind the Curtain," another Goddard script.).
As he was leaving Lost, he wrote Cloverfield (produced by Alias and Lost's creator, JJ Abrams), a "franchise" that still earns him Executive Producer credits. Finally, in 2009, he was prepared to make his big break into the film world, directing a meta-horror film with a script he co-wrote with Buffy and Angel creator Joss Whedon. That film was The Cabin in the Woods, which starred, among several others, a pre-Thor Chris Hemsworth. The film, to be released by MGM, wrapped principal photography in May of that year and was set to be released the following February. However, due to a wide variety of issues, mostly with MGM's financial situation, the film sat on the shelf until April of 2012, just a few weeks before Hemsworth made his second appearance as the God of Thunder in Joss Whedon's The Avengers. The film, while it did not enjoy much financial success, was a critical darling, as Whedon and Goddard's script delightfully grilled the tropes of horror, all while holding them in the highest of esteem. It's one of my favorite horror films to this day and left me tremendously excited to see what else Goddard would do with his future films.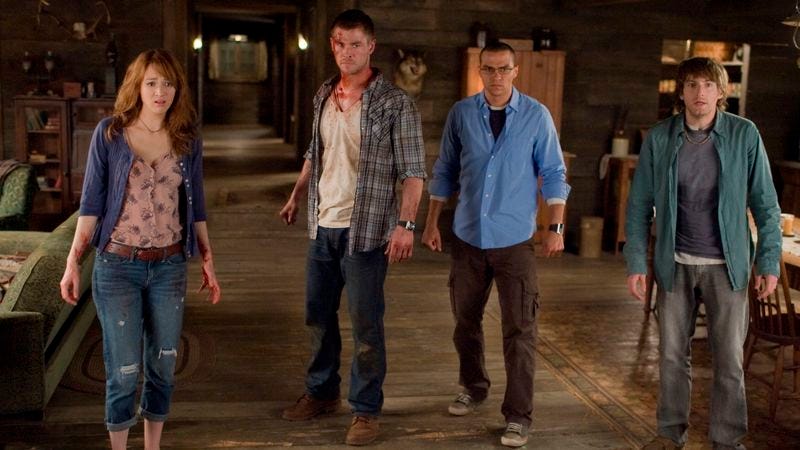 The answer was relatively little. In the three years between wrapping and release, Goddard kind of disappeared from film and TV. Eventually, about a year after the release of Cabin¸ he would be one of three credited writers on the adaptation of Max Brooks World War Z, which is fine as a movie, even if it isn't really much of an adaptation of the much more interesting book. Two years after that, his much more faithful adaptation of Andy Weir's The Martian would garner him more critical praise, earning him an Academy Award and Writers Guild of America nomination for Adapted Screenplay (he lost both to The Big Short). On the small screen, he was brought on to start Netflix's Marvel universe, as the creator and showrunner of Daredevil, the latter title he would give up to direct on Sony's failed Sinister Six movie.
Finally, nearly ten years after his first directorial effort wrapped filming, and six years after its release, we come to the actual topic of this review, Bad Times at the El Royale. The trailers for this movie, which I talked about elsewhere on this site, probably would have been enough to sell me, even without Goddard's involvement. With a cast featuring Jon Hamm, Dakota Johnson (the Dakota Johnson-issance has begun), Jeff Bridges, Tony Award winner Cynthia Erivo, and a shirtless, dancing Chris Hemsworth, and just enough information about its mystery (two-way mirrors, a priest tearing apart the floors of his room, shirtless Chris Hemsworth in the rain), my interest was more than a little piqued. Throw in Goddard's name as the writer and director, and with The Cabin In The Woods in mind, those mysteries, with their implied promises of some behind-the-scenes management pulling the strings, already seemed that much more exciting.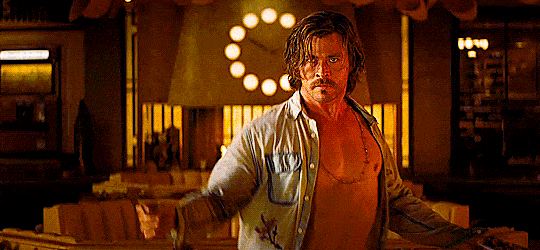 The movie itself, however, and without getting into spoiler territory, is not nearly as concerned with the behind-the-scenes management operating this hotel as it is with the people who came together on this fateful night. Throughout the film, we spend at least a few minutes to understand what brought this cast of characters, including an aged Catholic priest (Bridges), a backup singer looking to make it big (Erivo), a vacuum salesman (Hamm), and a woman who is no hurry to make friends (Johnson), to the failing El Royale, whose sole employee (Lewis Pullman) is more than a little bit behind on the overall maintenance of the hotel. The movie's concept of time is not entirely straightforward, as it heavily features flashbacks, sometimes to years before, sometimes to just minutes before what we just saw, in order to give us a new perspective on the events that have transpired.
This story-telling technique is nothing new, as it's something that Quentin Tarantino obviously mastered in 1994's Pulp Fiction. Overall, with its less-than-straightforward story-telling, violence, and its (maybe a tad too) long runtime, this movie feels like Goddard was at least partially indebted to Tarantino, although the overall quality certainly does not achieve the heights that QT does with his stories. That said, I enjoy this more than some of Tarantino's stuff, because despite its violence, gore and overall darkly comedic tone, it's a movie you can leave with a relatively positive view of humankind (a similar sensation that you can get from NBC's incredible The Good Place, on which Goddard serves as executive producer, having directed the show's pilot and the second season episode Ted Danson submitted for his Emmy nomination). Yes, people can do terrible things to other people, but their stories might tweak how we see those terrible actions. They might not bring us to agree with them, and they certainly don't want us to condone them, but at least we can understand why a person would do something like this.
And I'm not talking about this movie trying to clarify something terrible like misogyny or racism, something else that really helps this movie stand above the work of Tarantino, particularly as it pertains to race. Tarantino has a penchant for using certain vocabulary in his films, quoting the overall racism of antebellum and immediately post-Civil War America as a reason to use it, which certainly makes sense to some degree, although having two consecutive films take place in those time periods certainly begs the question of maybe Tarantino just likes to use that word, quoting "realism" as an excuse. Goddard's film takes place in the 60s, which was obviously another time when our nation's racism was on the forefront. If Tarantino had made this film, you get the feeling that Erivo's character would get called much worse than "Negro," like she does here, and it would certainly happen more than once. Instead, Goddard lets that moment do the heavy lifting to suggest that the 60s were a time where racists said racist things without concern. It happens once, we get a reaction from Erivo's character showing that this isn't the first time she's been off-handedly referred called something racist, and the movie moves along from that and focuses on the story at hand.
This isn't to say that Goddard is a better filmmaker than Tarantino. Goddard has two films to his directing-name, neither of which come particularly close to top-tier Tarantino (even if I truly enjoyed both films). Particularly here, Goddard's script short-changes a couple of characters, particularly Johnson's, whose story falls just short of enough time for its emotional climax to work. But if you want to see a decent Tarantino movie without being bogged down in misanthropy or racism, then Goddard has provided us with a fun alternative, loaded with strong performances from most of its cast, especially the always-great Bridges, an excellently eerie Hemsworth, and a terrific film debut from Erivo, who, along with her work in the upcoming Widows, could be on the verge of a breakout.
Like I said at the beginning, Goddard is far from a household name. In fact, with the exception of Bad Times, everything he's been attached to is (mostly rightfully) much more associated with another name, from Whedon's creation of Buffy and Angel, and even the co-writer credit on Cabin, to JJ Abrams on Lost and Cloverfield, to Ridley Scott on The Martian, to Brad Pitt on World War Z, and even now, Michael Schur on The Good Place. Even Bad Times will likely be more quickly connected to its cast than it ever would be to Goddard. But, for me, Goddard was the ultimate draw to this film, because the stories he has told over the last 15 years are some of my favorites. Even with this movies faults, the story and characters are enough to continue to support the praise for Goddard that I have in my head, and I hope that despite its lackluster box office performance so far, this is not the last we've seen of his work. Even it takes six more years.
References
Drew Goddard Wikipedia https://en.wikipedia.org/wiki/Drew_Goddard
Lost Accolades Wikipedia https://en.wikipedia.org/wiki/List_of_awards_and_nominations_received_by_Lost
The Cabin in The Woods Wikipedia https://en.wikipedia.org/wiki/The_Cabin_in_the_Woods
The Martian Accolades Wikipedia https://en.wikipedia.org/wiki/List_of_accolades_received_by_The_Martian_(film)
Photo Credits
Cover https://hips.htvapps.com/htv-prod-media.s3.amazonaws.com/images/bad-times-at-the-el-royale-pic-1539362690.jpeg?crop=0.8888888888888888xw:1xh;center,top&resize=900:*
Cabin in the Woods https://i.kinja-img.com/gawker-media/image/upload/s--aZ5xwNvQ--/c_scale,f_auto,fl_progressive,q_80,w_800/qlbnctsynfxfklmdtjbp.jpg
Dancing Hemsworth https://hips.hearstapps.com/hmg-prod.s3.amazonaws.com/images/hemsworth-el-royale-1538669574.gif?crop=1xw:1xh;center,top&resize=480:*